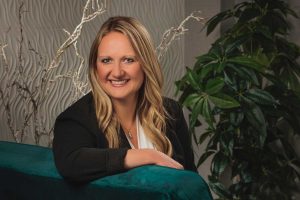 Dr. Krueger has lived in Lincoln, Nebraska since 1998 and is excited to be treating patients in the family oriented city of Lincoln. Originally from Colorado, Dr. Krueger graduated high school from Campion Academy where she was active in sports and music. After graduation, she attended Union College in Lincoln, Nebraska for two years taking pre-requisites for dental hygiene school. Dr. Krueger attended the University of Nebraska Medical Center, College of Dentistry and graduated with high distinction with a Bachelor of Science degree in Dental Hygiene in 2002. She practiced for two years as a clinical dental hygienist here in Lincoln. She also was as a part-time faculty member of the University of Nebraska Medical Center College of Dentistry Dental Hygiene Department until beginning dental school in 2004. Dr. Krueger attended the University of Nebraska Medical Center College of Dentistry and graduated from dental school with high distinction in 2008. Dr. Krueger was awarded the Excellence in Practice Management award for outstanding clinical effort, expertise, patient management and professionalism and was also awarded the American Academy of Periodontology Dental Student award in recognition of outstanding achievement in Periodontics.
In June of 2008, Dr. Krueger bought the practice of Dr. Sandra Larson who practiced dentistry for over 25 years and transitioned the practice to what is now Krueger Family Dentistry. Dr. Krueger provides exceptional care for her patients in a friendly, yet professional environment.
Dr. Krueger enjoys spending time with her husband and their three young children. She also enjoys traveling, running and shopping. She has one sister who is a dentist in Spokane, Washington and one brother who is a registered nurse at Bryan West Hospital in Lincoln, NE.
Dr. Krueger is dedicated to the dental profession and the highest quality of care for her patients. She enjoys staying current on the latest materials and techniques by attending continuing education every year. She is a member of the American Dental Association, the Nebraska Dental Association, and a local chapter of a Spear Study Club.